The TU-106 Dual-Application Commercial Refrigeration Trainer can show the operation of multi-evaporator systems, dual temperature applications (both low and medium) and an electric resistant heat defrost cycle. This deluxe trainer is great for providing a hands-on experience to future HVAC/R technicians.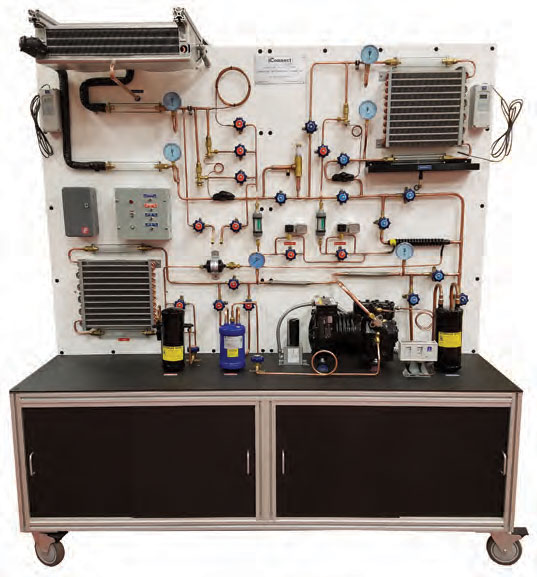 Specifications
Electrical requirements: 120VAC; 60Hz; 15A
Uses R134a Refrigerant
Overall Size: 72″ L x 20.75″ W x 79″ H
Compressor: Single phase, 1/2 HP semi-hermetic (bolted reciprocating-type)
Panels: 1⁄4″ thick HDPE with steel reinforced component shelf
Features
Customizable isolated access ports for alternate metering devices
Defrost Timer
2 Liquid Refrigerant Flow Meters
Electrical Fault Package
Evaporator Pressure Regulator (EPR)
Sight glass tubes at inlet and outlet of evaporators and condenser constructed of explosion-proof, tie-bolt design
Cut-out and by-pass valves
Hand valves allow malfunctions to be simulated
Many control changes are possible
Thermostatic control with an adjustable range of –30°F to 100°F
2 solenoid liquid line valves
Condenser and Low and Medium Temperature Evaporators: Copper tube coils with aluminum fins and adjustable speed fans mounted on back of panel.
Combine low pressure and high pressure control
Includes Lab Manual and Operation Instructions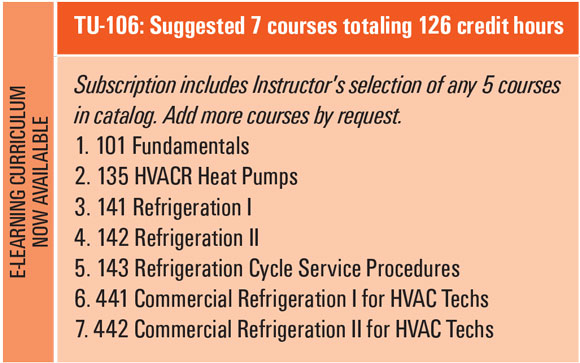 Shipping Weight: 900 lbs.
Shipping Dimensions: 81″ L x 45″ W x 88″ H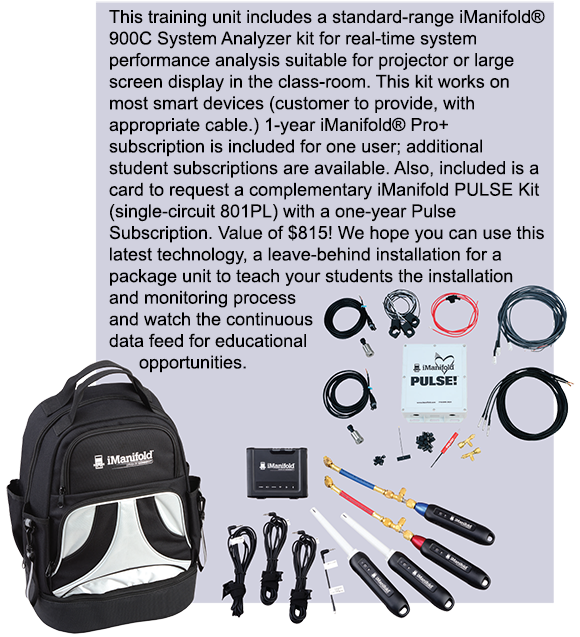 Interested in the Dual-Application Commercial Refrigeration Trainer?