Want to give your HCVAC/R students hands-on experience with a residential AC unit? iConnect Training's TU-206 model allows future technicians to practice troubleshooting wiring, piping and controls. With real-world applications and readings, they are prepared for success out in the field. This training unit goes beyond the textbook and shows the inner workings of a home air conditioner without having to leave the classroom.
Specifications
Electrical requirements: 240VAC; 50/60 Hz; 15A
Uses R410a refrigerant
TU-206 Overall Size:70″ L x 33″ W x 67″ H
TU-206C Overall Size:70″ L x 33″ W x 85″ H
Features
Fault simulation with two refrigerant faults and four electrical faults
Provides numerous real-world applications and trouble-shooting examples
Refrigeration cycle can be observed
High-pressure refrigeration tubing piped to sight glass for direct observation of the fluid stage of the refrigeration cycle
Pressure, temperature and electrical readings can be made
Visible wiring and piping
R410a refrigerant can be pumped down
Metering device/thermostatic expansion valve
2 sets of pre-connected high and low pressure refrigeration gas/liquid gauges
Necessary line and low voltage wiring
Low voltage transformer and wiring
Includes Lab Manual and book Refrigeration and Air Conditioning Technology
Standard-range iManifold 900C system analyzer kit
Optional add-on equipment package provides all the professional tools necessary to complete service checks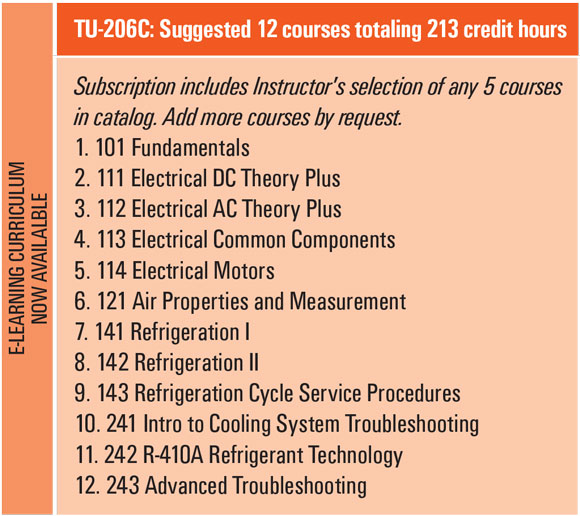 Interested in Our Residential Air Conditioning Training Unit?
Download the spec sheet or request a quote below for more information. You can even give us a call 716-699-2031.
iConnect Training stands behind our high-quality HVAC/R products. Read more about our warranty policy for our training units here.
Shipping Weight: 960 lbs.
Shipping Dimensions: 80″ L x 48″ W x 78″ H