Are you looking for a training unit that can demonstrate basic refrigeration and air conditioning principles? The TU-805 Mobile Table-Top Air Conditioning & Refrigeration Trainer is a great option for giving HVAC/R students hands-on experience before they go out in the field. Plus, it is lightweight, portable and comes in a compact size perfect for classroom or mobile training. With this training unit, students can easily make electrical measurements.
Specifications
Electrical Requirements: 120VAC; 60Hz; 15A
Uses R-134a Refrigerant
Overall Size: 34″ L x 16″ W x 16″ H
Weight: 80 lbs.
1⁄3 HP hermetically sealed reciprocating compressor.
Features
Lightweight for easy on-the-go training; weighing only 80 lbs., this unit can be easily moved, transported and stored.
Variable fan speed controls for evaporator and condenser load adjustment
Sight glasses at inlet and outlet of evaporator and condenser constructed of explosion-proof, tie-bolt design
Conditions of refrigerant and oil can be observed under fluid and gas stages of operation
Evaporator and condenser copper tube coils with aluminum fins
Drip pan located under the evaporator for condensation drain
Includes Operation Manual
Easy access for electrical measurements
Recommended Basic Refrigeration Fundamentals Course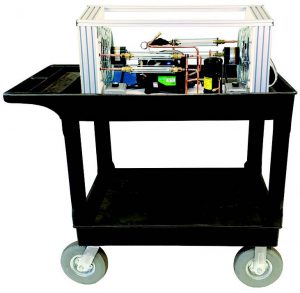 *Convenient push cart available separately
Air Conditioning & Refrigeration Trainer Videos
Interested in other trainers for your HVAC/R vocational school? Check out a complete list of iConnect Training products here.